Martian Muckraker Core Rulebook Released!
---
It's Here!!!!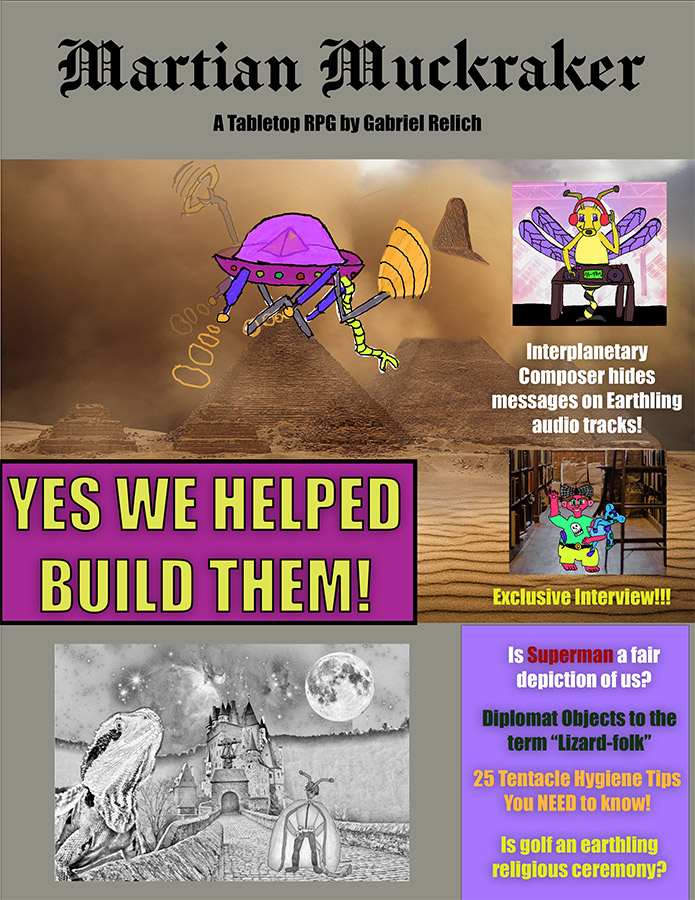 Thank you!
55-card custom deck, A InDesign-drafted rulebook, 180+ file assets total involved in the project folders, Fresco/Indesign/Photoshop/ClipStudio/Aseprite. Play testers. Rewrites. Play testers. More rewrites.
And finally it is here! I hope that this story deck and RPG give you joy and encourage you to tell strange and wonderful stories. Thank you to everyone who made recommendations, was willing to try this project out. Continue to give your recommendations and feedback. Not sure where the project will lead next (Expansions? Alternate settings? Story Decks for different genres?) but I imagine I will be expanding the world of the Muckraker for a long time.
What's In the New Core Rule Book?
Final Ruleset
Character descriptions for major actors in the Martian Muckraker world.
Sample articles from the Homeworld Edition of the Muckraker
Multiple prompts for each card of the storytelling deck
New pixel art!
New trippy photoshop art!
And a whole lot of Martian Fun!!!
Files
The Martian Muckraker Core Rulebook.pdf
24 MB
Jul 12, 2021
Keep The Faith - One Page RPG with the StoryDeck
1 MB
Jun 06, 2021